In 1985 Ahene, Germany a company named Medizintechnik Rudolf Weyergans GMBH was created, which in 5 years (in 1990), was renamed to Weyergans High Care AG. Its Founder and owner, sociologist Dr. Rudolf Weyergans. Weyergans High Care AG medically scientific comitiees conductor presently is Dr. Kathe Kreft-Weyergans – diploma in Biology and a specialist in genetics.

All products and methodics, that Weyergans High Care AG offer, are based on the latest researches in the field of cosmetics and cellulite treatment. Procedures are done using modern devices and high quality products for face and body treatment

In 1997 Weyergans High Care AG and SIA Stella AB cooperation started.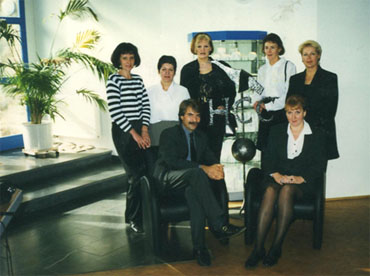 In 1997 latvian speciālists and company owners take their first trip to Weyergans High Care AG HQ in Germany, Gut Boisdorf

SIA Stella AB was founded in 1996 and works with Professional cosmetics and healthcare product and device distribution for more than 14 years. SIA Stella AB is Weyergans High Care sole representer and distributed in Latvia for more than 17 years. During this time the director of SIA Stella AB, cosmetologist Solveiga Aminjara has developed a friendly relationship with High Care community and cooperates with Latvian Phisiotherapeits asociation. And has developed a base of education for Weyergans High Care procedures and devices. Lots of partners have worked with SIA Stella AB and have seen the quality of the products offered.

Since 2009 SIA Stella AB is also the sole distributor and representative of Weyergans HIgh Care in also
Lithuania and Estonia.

For the international High Care comunity, members from Lithuania, Estonia and Latvia are invited to join us, wether u are cosmetologists or doctors – everyone who share the philopophy of healthcare of Rudolf Weyergans.

SIA STELLA AB offers:

Continous cooperation and marketing support.

A licensed health and beauty care High Care Centre and Studio creation and development, cooperation in advertisments and lots of other interests.

Professional education in "Solve" learning centre, where professionals can choose and learn licensed programs, and also up their qualification in cosmetology when visiting Germany.